4 H Information
Station!
Looking for 4 H information? We trust you will find it here!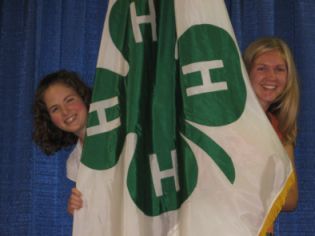 Laura and Libbey graduate from 4H!
We started our 4 H journey back in 1999. A dear homeschool mom started a club in our area and encouraged our family to join. My initial thought was I'm way too busy to add one more thing to my already full plate. But we gave it a try...the kids really enjoyed it. And I discovered it was well worth the time and effort involved.
Within these pages, I trust you will learn something from our years of experience with our club here in Wisconsin.
Wanted to THANK YOU for sharing all of these wonderful ideas. I am the coordinator for an after school program at an elementary school and was searching for 4-H activity ideas and found your website! I will incorporate many of the games, recipes and projects.
Thanks, Marquita
Please share a favorite Project, Speech, or Picture by clicking below:

4 H Project
4 H Public Speaking
4 H Pictures
Join A 4 H Club
4 H was a big part of our life. The children may not actually belong to a club anymore, but it had such a positive impact in their character development, that the effects will carry with them long into their adult lives.
Visit the National 4-H website to find a club near you.
Discover why you should seriously consider 4 H for your family. These volunteer and 4 H club activity ideas will spark ideas of your own!


4 H Project Ideas
So, now that you have decided to join a club, you will need some 4 H information about projects. We know you'll find just the project you're looking for and have fun doing it!
4 H Project ideas are a blast to make with your Cloverbuds and for your Arts and Crafts projects.
More 4H Projects for Woodworking, Drawing and Painting, and Scale Models...just what you're looking for!
4 H Pictures can be a challenge, unless you take a peek at what we learned at our photography classes!
4 H Fundraising Ideas For Kids
Every 4 H Club needs money to function. Our List of Fundraising Ideas has 35 suggestions for you. The Brat Fry was our favorite of all the simple fundraising ideas because it made the most money!
4 H Dog Show
Even though our four-year-old dog knew how to sit, stay, come, and roll-over, there was room for improvement! The 4 H Dog Show program allowed us to teach her even more. Learn how Emily trained Liberty and how a little persistence paid off.

4H Leaders
Our club was in desperate need of a General Leader. We busy moms, did not want to don another hat so we got our children to participate as 4H Leaders!

4 H Public Speaking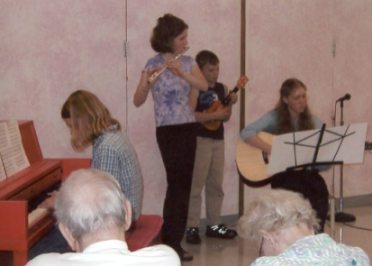 Over the years,
the children
became quite confident
performing in
front of an
audience.
Annette (12),
Laura (17),
Garrett (10),
and Emily (15)
are pictured
here at a local
nursing home.

Speech and Demonstration leads to Public Speaking. Our children need to be able to talk in front of a group of people, without fear! Hope you find these
4 H Public Speaking ideas helpful.
4 H Clover
If you are looking for a nice 4 H Clover, the 4 H National website has a number of ideas for different 4H emblems to print for use in your club. While there, take advantage of all the 4 H information they have for you and your club.

Return from 4 H Information to
Homeschool Rewards Home Page