4 H Project
Ideas
Are you in search of that unique 4 H Project? Or do you have a unique project of your own that you'd like to share?
Whether you're a new club member needing a 4 H Project Idea or want to Brag About A Blue, you will be able to do that right here!
We've included some of our project ideas for you, too. With my four homeschool children in 4-H for 8 years, we've completed close to a hundred projects! No wonder we spent weeks on our record books. Ugh!
Take advantage of the fun ideas especially from others who have contributed below. They'll be sure to spark ideas of your own!


Cloverbud 4 H Project


Garrett made this charcoal horse drawing using the simple step-by-step instructions in the Draw Today program. The snowmen were created with wooden shapes that Annette painted to look like snowmen. She later added cloth hats and scarves. They're hinged allowing them to stand on their own.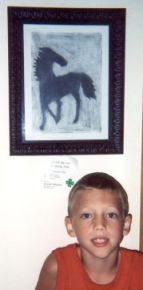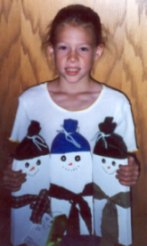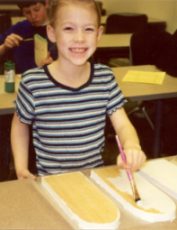 Arts and Crafts
4 H Project


You can do a number of things with gourds once you use your imagination. They make great bird houses (just drill a hole!) or decorate as Emily (age 11) did. It went to State! She has made a couple of wreaths, one from grape vines and this one from pine boughs.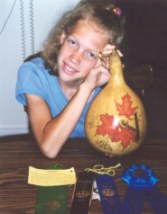 Laura's gourd also went to State. Using carbon paper they simply traced the images directly onto the gourds. Coloring book pages are great because the pictures are usually bigger making it easier to work with. After wood burning they painted with a hobby paint we had around the house.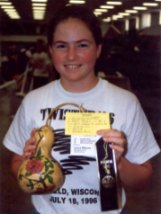 The eucalyptus swag was made at our local Family Learning Day by Laura. We still have it hanging in our school room. The quilling figures are made using strips of paper and a quilling tool. They make a fun addition to homemade greeting cards that you can enter in the Self Determined Project.






Laura's photo album cover was another project she did at Family Learning Day.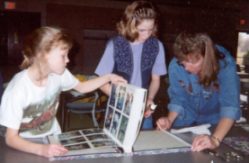 Annette made a place mat which is easy to do. Just choose a design and place onto contact paper. Straight stitches and batting created this simple pillow. Emily created the sun plate using a special paint for glass. The bird sun catchers were created by using tubes of special paint that dry hard, start outlining in black first. Lay a clear plastic sheet over a page from a coloring book. Yes, Annette broke her wrist that year!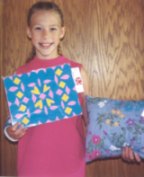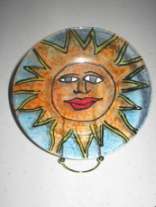 Laura is wearing the tie dye shirt she made and holding the shelf she put together and stained. The potpourri jar is made with any jar carefully layering the potpourri around a string of lights. It's topped with a crocheted doily to allow the fragrance through when you plug the lights in. No stitching was necessary for the fleece pillow. It was cut with an even amount of "laces" and tied around a pillow. Annette also macramed some jewelry.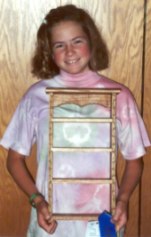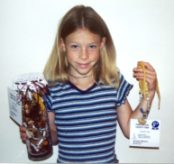 What 4-H Project Would You Like To Brag About?
Here's a chance for you to Brag About Your Blue!
(Actually it doesn't matter if you got a blue -just share what you made!)


Other Visitors' 4-H Projects:
Click below to see contributions from other visitors to this page...

Grow a TickleMe Plant!

Ever grow a plant that has its finger like leaves close and its arm like branches droop when you tickle it? Now you can grow a TickleMe Plant! As the Educational …
4-H Japanese Exchange

I coordinate the California 4-H Japanese Exchange. We offer a one-month exchange program. 4-H members host Japanese youth ages 12-17 on odd-numbered …
Horse Shoe Park Bench

This horse shoe park bench was the 2007 Illinois State Fair winner in Arts/Metals. It is made of 140 authentic worn horseshoes welded together. I got …

Return from 4 H Project page to
4 H Info

Return from 4 H Project page to
Homeschool Rewards Home Page