Start Homeschooling Simply

How to Home School
Many parents
start homeschooling
when they have children in kindergarten or first grade.

That is when we started.
And, since we did it four times, we think we have the right combination.
See if you agree...


How To Start Homeschooling
Home Schooling Kindergarten - 5 ideas for getting your kindergartener off to a great start.
Free Kindergarten Worksheets - Discover if we used worksheets or not.
First Grade Home School - See what worked for us, not just in First Grade but for most of the Grade School years.
Other Important Suggestions to Get a Good Start Homeschooling:
1. Learn the Laws - You will want to find out what the laws are in your area. In America, each state has its own set of rules. To find out exactly what the law is in your state, visit the HSLDA website. It's an excellent resource.
2. Meet Other Home Schooling Parents - Once you know what you have to do to comply, then seek out other parents in your area to see just how they do it. You can do that by attending an area homeschool meeting. Homeschooling parents love to share how to home school. This is also an excellent way for you to find others with children the same age as yours. It's another way to make new friends!
Garrett loved the Usborne science
and history
books.


3. Choose a Curriculum - Take your time. You need to decide if an accredited home school program is right for your family. If not, I strongly recommend reading all of Ruth Beechick's Books.
Start with the 3 R Series. It is a very affordable and simple approach to getting them off to a great start.
As you approach 4th Grade, get her next book entitled You Can Teach Your Child Successfully. It picks up where the 3 R Series leaves off. Don't let the simplicity of these books fool you. They are excellent and give the children the best foundation I know of. These are what we used and I strongly recommend them. These simple books, I believe, set the foundation in preparation for their later education and successful careers.
4. Visit the Library…Often! - A trip to the library was always a big event for our family when the kids were little! You never run out of things to find there. Then, by all means, read! Your children will become avid readers, soaking in everything they can get their hands on. The Children Learning Reading Program is a great tool for giving your young child a head start reading on his own. I highly recommend it.
5. Locate a Quiet Spot - This can be as simple as the kitchen table or a separate room all to themselves! Take a peek and see how one of our friends set up their home school room. There is no right or wrong with this one as long as it's quiet and comfortable and away from the T.V.!
We placed 2-drawer file cabinets at the ends of both tables, giving each of the children enough room for all of their books.
When you visit our About Us page, you will see those tan file cabinets near the top of the picture. (Garrett's is on his left.) The computer and maps were directly behind me. It was handy having them in the same room.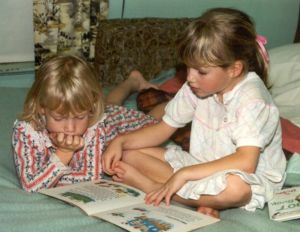 Emily and Laura at Grandma's.

There is no right or wrong way on how to start homeschooling. You may make changes once you get going. But that's okay! That's the beauty of homeschooling, the freedom to do whatever, whenever, wherever, and however you want!
You may even consider utilizing the public school system (like we did for German class) as you continue searching new ways on how to home school.
Live in Wisconsin? Check out the Wisconsin Homeschooling page.
Return from Start Homeschooling to
Homeschool Rewards Home Page