1. River Clean-Up
2. Sort Coats for the Salvation Army
3. Leaf Raking
4. Work the Food Stand at the Fair
5. Write Letters to our Troops
6. Visit the Homebound
7. Visit Nursing Homes
8. Donate Money to a Needy Cause or Charity
9. Packing Food Boxes for the Needy (Emily with her friend Anna below)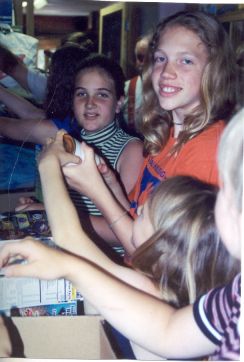 Giving of yourself is very rewarding.
And that was not the only way we had fun...
Club Activities
YMCA
Tours (Farms and Factories)
Wisconsin Dells
Bowling
Basketball
Caroling
Hiking
Fundraisers
Ice Skating
Fishing
Square Dancing
Hay Rides
Parties
Parks
Corn Maze

What did we forget? Contact Me and I'll add it to the list!
4 H Club Fast Facts
4-H is one of the largest youth development organizations in America with more than 6.5 million young people, ages 5-19, 538,000 youth and adult volunteers, more than 3,500 staff and 60 million alumni.
4-H is in all 50 states, U.S. territories and on military installations worldwide, with 55 percent of 4-H members living in cities, large towns and their suburbs and 45 percent living in small towns and farms.
4-H members span all backgrounds with 20 percent representing minority racial populations and 13 percent representing Hispanic or Latino ethnic populations. 4-H includes both genders with 52 percent female and 48 percent male.
(Taken from our local 4-H Family Times newsletter.)
Your 4-H year always ends by completing a Record Book. It was not always the most fun thing to do, but it is a wonderful record of years of accomplishments. It has been a joy to flip through their record books. Without them I could not have made these web pages for you! Enjoy!
Annette (11) with her Record Book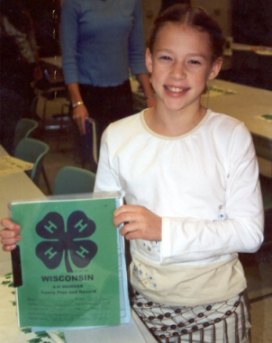 Return from 4 H Club to
4 H Info

Return from 4 H Club to
Homeschool Rewards Home Page