Free
Printable Chore Charts
Our Family Chore Charts
If I were a betting person, I'd have to say that we've been through more printable chore charts than you have! There are a number of reasons for that…from better ideas and simplification to just outgrowing them!
With all that experience, we think we have the most useful family chore charts for you.
Skip the chore chat and take me to the free printable chore charts!

Daily Chore Chart
Weekly Chore Chart
Periodic Chore Chart


Simple Homeschool Chore Charts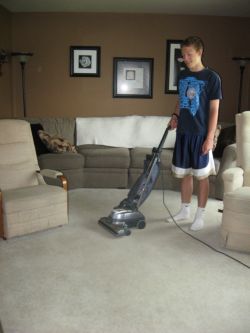 Over the years, we have discovered that simple is best.
I remember having a chore chart for each of the children. When they completed a task, they would place a sticker over it or cross it off.
But I was getting tired of making new charts every week. (Now I wish we would have saved a couple of them...hehe!)
There had to be an easier and better way. I wasn't going to give up. The benefits of having routine chores for kids were just too great! Garrett is our youngest. His sisters would say he's spoiled, but he is responsible for doing his chores, also!
In time, we came up with three charts, one for daily, one for weekly, and one for periodic chores. Because of their simplicity we were eventually able to put them to memory. Each of the children now know just what they are responsible for and do it!
Printable Chore Charts Benefits
Saves Time


Saves Paper – No Need to Make Copies Every Week ;o)


Simple Kids Chore Charts - At A Glance!


One Chart Last Months


Room at the Bottom to Add Your Personal Chores


All are FREE and Printable in PDF Above

Have your child sign his/her name next to the chore he/she decides to be responsible for. Allowing them to choose their chore makes all the difference in their attitude!
On the weekly chart, your children can initial the day of the week that works best for them.
Friday is clean day for us. Cleaning seems to go faster when we do it together. We find it fun to make the quick cross-off family chore chart. Everyone is responsible for their own chores. Remember your toddlers and preschoolers will work with you until they have it down pat.


Don't need a chart? Check out our household chores checklist!
Here's Annette doing one of those weekly joy jobs!
If you think she gets paid for cleaning the sink, think again!

What About A Kids Allowance?
We have had mixed feelings when it comes to allowances. There are the questions: How much? How often? What for?
But the most important question is: Why? See if you agree with our stand on kids' allowance.

---


I trust our charts have given you the encouragement you all need to get those jobs done! Let us know if you have any chore ideas of your own!
Return from Printable Chore Charts to
Homeschool Rewards Home Page