Homeschool
...More Than an Education
If you should choose to homeschool, how would you do it? And why? Home educating your children can be a very rewarding experience. Or it can be terrifying.
Trust me, I've been there. And I have overcome all the fears.
Are you trembling just at the thought of it?!
Well, don't.
The benefits far outweigh the fears. And believe me, the fears gradually die away, leaving you with many rewards.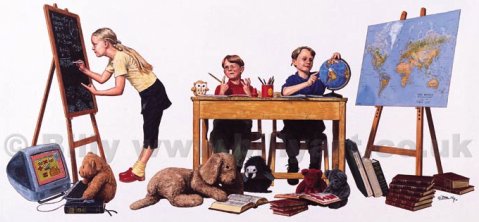 Your Education Is Your Life - Guard It Well

Custom Search
My husband and I have experienced the benefits of teaching our four children for over 20 years, if you can count from the day they were born! When the time came for us to enroll our firstborn into kindergarten, we were scared to death. Afraid of what might happen to her in public school and afraid of what might happen if we kept her home!
So, I did my homework – pardon the pun! I pored over all kinds of educational material wondering where to even begin. I attended meetings and talked with parents looking to find the best homeschooling curriculum.
My head was in a spin!
And do you know what I found? There was no best curriculum. Nope.
There was no right or wrong home school material. You use what works for you and your child! And it is much easier than you think.
That is why we put this website together. We hope to calm your fears by showing you how we educate at home. I'm not saying it's right or that it's even right for you. We have learned (yes parents learn too!) that every child, every family and situation is unique. Over the years we have learned what works and what is necessary, what to spend time on and what not to.
And how do we know it works?
Well, our two eldest daughters, Laura and Emily, did so well on their ACT exams that they are enrolled as honor students in a private university and remain on the Dean's List. In fact, Laura is a National Merit Scholarship earner having finished in the top 1% of the nation for the PSAT (and ACT). And just recently, Annette finished in the top 5% of the nation as a sophomore on her PSAT!
Relax. You can homeschool. Enjoy the benefits of educating your children, too.


Explore the advantage of homeschooling and discover some disadvantages of homeschooling as well! Learn all the pros and cons of homeschooling from parents with years of experience.
5 Easy Steps on How to Start Homeschooling...
How to home school using fresh homeschool ideas and share your own.
Looking for a List of Fun and Educational Homeschooling Field Trips? Take a peek at our Home School Field Trip Ideas!
Don't buy just any Homeschool Math Curriculum. These reviews By Moms/For Moms will help you choose the right home school math program.
Only the best home school books make up these great home school book lists. Discover must-read literature using these great leveled book lists.
The coolest fun games for kids...Your child can learn lots outside of the classroom...Play kid games!
Tired of preparing meals? Have your children make them using these fun easy recipes for kids...
At last, the Top Movie Reviews For Children. See what movies other homeschool families watch with the help of these Family Movie Reviews.
Your homeschool children deserve loving discipline methods. Get your burning child discipline question answered here.
Are you wondering "How to Home School My Child?" Get your homeschool questions answered...today!
Working parents CAN homeschool. Ten tips you must know to successfully work while homeschooling your children...
Easy ideas on how to home school preschool. Let your toddlers use their imagination with these simple homeschool preschool concepts.
More how to home school ideas. As you start homeschooling, don't be overwhelmed by the choices. Keep it simple as you start home schooling kindergarten or first grade.
Confused with all the homeschool curriculums out there for your middle school student? This is the best homeschooling curriculum for grades 6-8.
How to Homeschool High School with these simple homeschool curriculums.
Looking for a Christian Home School Curriculum? Take it a step further by joining a Christian Home School Organization.
Are you looking for Accredited Home Schools? Consider the highly recommended Alpha Omega Curriculum.
How using Abeka books keeps this family focused on what's important to their Abeka Home School.
This Homeschool Money Saving Expert will show you How to Save Money Fast with many Practical Money Saving Tips.
You won't believe how educational these creative ways to make money can be for your homeschool family.
Science now proves you can increase memory while supporting your immune system.
This Rewarding Homeschool Blog keeps you up-to-date with all additions and changes to the Homeschool-Rewards.com Web site. Subscribe here.
From projects to volunteering, successful members share some important 4 H information.
If you are looking for complete yet simple, free printable chore charts, you'll find this list of family chore charts the best!
Learn all about us!
Feel free to contact me with any concerns you may have.
The newsletter for Moms wanting to stay up-to-date with the Homeschool Rewards Zone Ezine.
Complete advertising information on our sponsors, our compensation or to arrange advertising on this site.