Homeschool Rewards Zone Newsletter
Don't miss a single issue of the Homeschool Rewards Zone Newsletter.
Over time you'll become as comfortable with homeschooling as we are. It doesn't matter where you are or who you're with.
It works!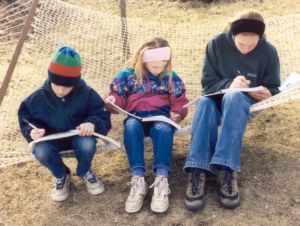 Garrett, Annette, and Emily doing their Math.
Whether you're currently home educating or wondering what it's all about, you won't want to miss a single new page we add to the site!
Stay current conveniently.
Receive the Homeschool Rewards Zone ezine.
(It's mailed periodically to let you know what's new or important!)
Plus just for signing up you'll get a FREE copy of our Field Trip Ebook:


Field Trips - 7 Steps to Fun & Adventure!
Subscribe to our Free ezine here:




Return from Newsletter Subscription to
Homeschool Rewards Home Page