Christian Home School Organization
Christian Home School Curriculum Resource
A good Christian Home School Organization can help you to locate a quality Christian Home School Curriculum. Locate or share a group in your area. If you can't find one in your area, you may be interested in ATI.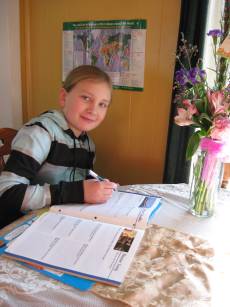 My long-time homeschool friend (also Diane) and her family have been using ATI (Advanced Training Institute) since 1994. In her words, it's not just a curriculum but, "A way of life!"


Johanna (Diane's daughter) working in her Wisdom Book.


ATI is a Christian home school organization dedicated to providing support, Biblically based curriculum, and ministry opportunities for home education families.

The Institute in Basic Life Principles, which is taught by Bill Gothard, developed ATI. We can tell you from experience that their seminars give clear instruction and training on how to find success in life by following God's principles found in Scripture. The seminars are taught worldwide giving almost everyone an opportunity to attend.
Their Christian home school curriculum revolves around The Sermon on the Mount teaching Matthew 5-7 chronologically using the Wisdom Books. Each month, a new Wisdom Book covers these five basic subjects:
Linguistics - Language, Grammar, Vocabulary, Communication

History - Archeology, Geography, Prophecy, Music, Art, Literature

Science - Chemistry, Biology, Astronomy, Geology, Physics, Math

Law - Government, Economics, Logic

Medicine - Health, Nutrition, Behavior, Counseling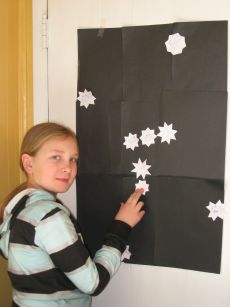 Diane's daughter, Johanna, is presently studying Astronomy.

Using God's word, the Wisdom Book answers its own question, "How Do Stars Illustrate the Glory of Peacemakers?"
Her chart of Orion, will eventually have 12 stars, each to explain a key fact about the star and how it relates to being a peacemaker.
ATI also offers Student Training/Ministry Opportunities and Personal Family Support. Diane's family has faithfully attended the Regional Training Conferences held annually in Texas. For more detailed information, visit their website.


What Is YOUR Favorite Christian Home School Organization?
Your experience in a Christian home school organization is very valuable to fellow homeschoolers. Whether it's in your neighborhood or across the country, everyone will benefit reading what is shared here.
What Other Visitors Have Said
Click below to see contributions from other visitors to this page...



Return from Christian Home School Organization to
Homeschool Rewards Home Page