Save Money On Your Car
Practical Money Saving Tips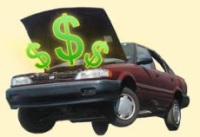 Here are some great tips
to
save money on your car
.


The best way to save on cars is to buy used. But, I recommend that you buy it used from a dealer rather than an auction, or a personal seller. You may be able to get a car cheaper at a auction but, you have to remember, you take it as is. If there is a lot wrong with the vehicle or if it's been in any accidents, you would have to deal with it yourself. And you really can't tell if there is anything wrong with it until you bring it home. Versus buying from a dealer, you usually get some sort of warranty, whether it be a few years, or 30 days. And remember the price on the car is the asking price. You can always try and talk them down.

When it comes to repairing your vehicle, it's best to just do the auto repair yourself. Pull out your how to books and do it yourself...make it part of your homeschool!
If you don't trust yourself fixing your own car, ask a friend or neighbor who is good at it to do it for a small price. If you do bring it to a car shop, bring someone with you who knows what they are talking about so that they don't try to take advantage of your lack of car smarts. Also when bringing it to a car shop, try to shop around.
Please share if you're already a money saving expert!






Return from Save Money on Your Car to
Money Saving Expert