Parents' Facts About
Homeschooling
Homeschooling Facts From a Parent's Perspective

There is no better person to learn the facts about homeschooling than from a homeschooling parent. Don't re-invent the wheel!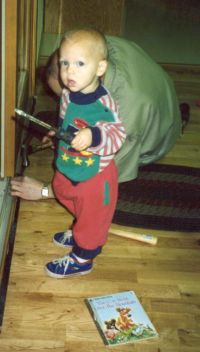 Within the pages of Homeschool-Rewards, you will discover a number of diverse homeschooling styles, families, favorites, and stories.
To help you more easily take advantage of these treasures and find what you're looking for, we've arranged the pages by topic. And if you still can't find it, just ask!
Have you already learned some homeschooling facts on your own?
If you've been homeschooling for a while and have some words of wisdom for our visitors, please share it with us. I'd love to know what you're doing and I'm sure others who visit this site will thank you, too!
Even Garrett (right) learned the right tool to use! You can, too!
Pros and Cons of Homeschooling
Choosing a Curriculum
Your Favorite...
Brag about a 4-H...
Discipline
We trust you have found what you're looking for. And if you've shared your expertise with us we thank you!
Return from Facts About Homeschooling to
Homeschool Rewards Home Page