Easy Recipes For A Crowd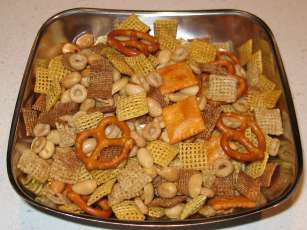 Do you like having your kids bring their friends home?
Keep them coming with these easy recipes for a crowd!
Anytime is a good time for snacking. You will find these easy party snack recipes just the ticket for a planned party (graduation!) or just hangin' out with friends. Keep these ingredients on hand.
Party Mix
½ box/bag of each of the following:
Cheerios
Rice Chex
Wheat Chex
Corn Chex
Cheese Bits
Pretzels

2# salted peanuts
Melt ¾# butter and add:
1 t. celery salt
1 t. garlic salt –or- ½ t. garlic powder
½ t. onion salt
1 T. Worcestershire Sauce

Mix and pour over the cereals and peanuts. Bake at 200 degrees for one hour, stirring twice.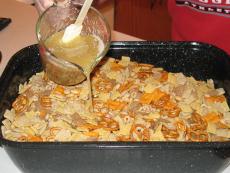 The children are also fond of Spinach Dip, believe it or not! You will find the recipe here.

Chances are they will get thirsty, too. Treat them to this fun punch!

Return from Easy Recipes For A Crowd to Easy Recipes For Kids