Simple Punch Recipes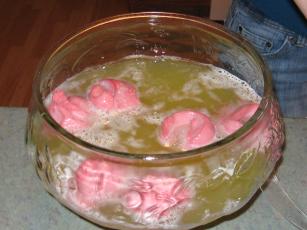 Easy Punch Recipe
#1
This has got to be one of the most delicious simple punch recipes out there. My sister served this at her daughter's baby shower. Thankfully I had my camera along! It is super easy to make and tastes great! Maybe because it is so simple!
Sherbet Punch
1/2 Gallon Raspberry Sherbet (Or any color you want.)
2 Liters Ginger Ale or 7 Up
33 oz. Pineapple Juice

This recipe fills a punch bowl. Adding sherbet to the pineapple juice...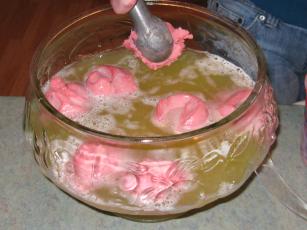 Aren't the bubbles fun?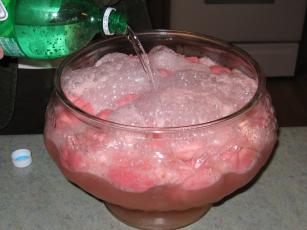 It doesn't get any easier than this.
Enjoy your party!


Easy Punch Recipe
#2
We have made this recipe many times over the years. It calls for a 46 oz can of pineapple juice, but any large can will do.
Lemon-Lime Punch
Three 6 oz frozen lemonade
One 6 oz. frozen limeade
(or you could use one 12 oz of each flavor)
One 46 oz can pineapple juice
2 liters ginger ale (add just before serving)
1 package Lemon-Lime Koolaid (make with water as directed)

This also fills the punch bowl, serving 16 to 20 people.
Return from Simple Punch Recipes to
Fun Easy Recipes For Kids