Save on Foods
Practical Money Saving Tips

There are many ways for you to save on foods. Here I share just a handful of ideas for your homeschool family. Be sure to click on the link at the bottom of the page for more useful ideas on saving money!


Grow Your Own Garden
Growing a garden will not only save on foods, but it's a great learning experience for kids. They will have so much fun, watering, weeding, and watching their garden grow.
Part of my friend Karen's garden!
It's a fact that kids who have a garden enjoy eating fruits and vegetables more than kids who don't. It helps even the pickiest of eaters try new things. They want to eat what they helped nurture and grow.
Not only can you have fruit and vegetables in the summer, you can also can or freeze most of your bounty and enjoy it all year long.


Buy from your local Farmer's Markets
Not only is the produce healthier, fresher, and cheaper than the grocery store, but it also helps out your community and your local farmers by buying from them.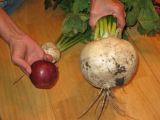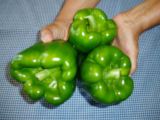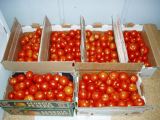 Cook From Scratch
I agree, cooking from scratch takes a lot of time and a lot of energy. It's very easy to pop a TV dinner in the oven, or use boxed "mixes." Not only do you save tons of money by cooking from scratch, but it tastes wonderful! Plus, it's so much better for you. For example if you make homemade pancake mix you eat: flour, baking soda, baking powder, cooking oil, sugar, milk, and egg. That's it, nothing more.
But, if you cook with a store bought pancake mix you eat: ENRICHED BLEACHED FLOUR (BLEACHED WHEAT FLOUR, NIACIN, REDUCED IRON, THIAMIN MONONITRATE, RIBOFLAVIN, FOLIC ACID), SUGAR, LEAVENING (SODIUM BICARBONATE, SODIUM ALUMINUM PHOSPHATE, MONOCALCIUM PHOSPHATE), DEXTROSE, NONFAT DRY MILK, PARTIALLY HYDROGENATED SOYBEAN OIL, SALT, WHEAT GLUTEN, CALCIUM CARBONATE, DEFATTED SOY FLOUR, CORN SYRUP SOLIDS, SOY LECITHIN, SODIUM CASEINATE, MONO AND DIGLYCERIDES, SOYBEAN OIL, LACTIC ACID.
I personally would rather eat the homemade pancake mix. I can't even pronounce some of the pancake mix ingredients. Rule of thumb...If you can't pronounce it don't eat it. Besides, the store bought pancake mix costs about twice as much as making it yourself.
There are certain foods you can cook in large amounts and freeze. Take pancakes, for instance. I make a hot breakfast every weekend and cook up double the amount of pancakes and freeze the left overs. Then during the week we can have a nice homemade breakfast from the microwave or toaster. You can pretty much freeze any home cooked meal. I know people who are so busy all week long that they cook all their meals on the weekend and then freeze them for the week. How nice to come home from work after a busy day and have a quick reheated meal, still from scratch, and still save on foods!
Please post your own homemade recipes here at Fun Easy Recipes for Kids.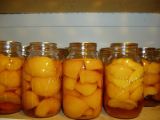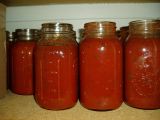 From garden to cellar...peaches, spaghetti sauce, and beans!
Special Occasions
When my husband and I were first married, we ate out constantly. Probably 3-4 times a week for dinner and maybe 1-2 times for lunch on the weekends. Plus, we would go grocery shopping for breakfast and lunch foods to eat during the week. We would also get a few dinners, snacks, and drinks for around the house. We would spend about $75.00 a week on groceries and about $160.00 a week on eating out. If we went out to eat 4 times for dinner (give or take $30.00 a dinner), and twice for lunch (give or take $20.00 for lunch) for two people, total we would spend close to $235.00 a week on food. After I got pregnant and started eating healthy and cooking a lot from home, I realized how much I actually was saving by not eating out. Now I spend about $100 a week. That's $135.00 savings and I am feeding more people.
If you have a craving for something that is only at restaurants, instead of spending money on that food from a restaurant, look for clone recipes online. Or check out cookbooks from the library. Todd Wilbur has a whole selection of Top Secret Restaurant Recipe cookbooks.
Hope I helped you to save on foods!





Return from Save on Foods to
Money Saving Expert Tips

Return from Save on Foods to
Homeschool Rewards Home Page