Household Chores Checklist
Our House Cleaning Chore List
A simple and easy to use household chores checklist is all that is needed when it comes to keeping your homeschool clean.
Kids Chore Charts improve your children's character. Check out our suggested age appropriate chores for kids.
A list can certainly help. Family Chore Charts allow everyone to pick the chore of choice making your home spotless in no time!
Annette cleaning the mirror.
Use this time saving e-cloth and you'll never have streaky windows again! These cloths have cut our window cleaning time in half.
We've put together a list of household chores for your convenience.
No need to think one up, we've done it for you!
---
Household Chore List
Kitchen

Meals
Plan/Prepare
Set/Clear Table
Wash Dishes/Load Dishwasher


Clean and/or Organize
Counter/Stove Top
Drawers
Cupboards
Fridge/Freezer
Sink
Microwave


Bedrooms

Make bed
Pick up/put away clothes
Tidy closet
Clean off dresser/work desk
Pick up toys


Bathrooms

Clean
Shower/Tub
Toilets
Sinks/Counters
Mirrors
Drawers/Cupboards


Family Areas

Pick up books and toys
Organize bookshelves
Clean/Dust Top Surfaces
(computer workspace, tables, etc.)


Laundry

Sort into loads
Wash them
Hang permanent press
Dryer items
Fold/Put away


Floors

Dry mop/Sweep
Wet mop/scrub floors
Vacuum
Shampoo carpets
Wax (If you are really ambitious!)


Additional

Take out garbage
Dust anything else!
Take care of pet(s)
Wash Windows


Outside

Clean
Pool
Camper/Boat
Garage/Shed


Wash/Vacuum Vehicles
Weed/Plant Garden/Pick Ripe Foods
Plant/Weed Flowers
Mow Lawn
Rake Grass/Leaves
Shovel Snow
Fill Birdfeeders/Wash Bird Bath


---
For a change of pace, make a list of those things that need to be done that day.

The children can initial the chore of choice and cross it off when completed.


Whatever household chore list you choose, stay upbeat and your children will, too! (Maybe even turn on some tunes!)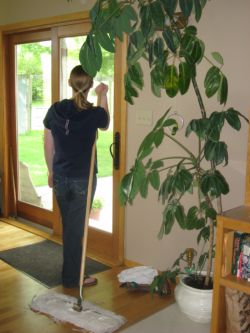 Need a Chore Chart?
Print one for free!
Daily Household Chore Chart
Weekly Chore Chart
Periodic Chore Chart


Should you pay a kid's allowance?
Look at Annette, she longs to be outside!

Let's be honest, when it comes to a list of household chores, even I can't wait to be done!

Return from Household Chores Checklist to
Printable Chore Charts