Preschool Book List
Homeschool Book Reviews For Kids
Preschool-K
Use this preschool book list to start your child's love of reading. Begin by first reading these easy books to your children. Annette specially organized this preschool book list with fun books that will get your child to want to read.
With pictures in every book to help them understand, and many humorous books, these will make almost every kid want to go to the library! These home school books were the start of our own homeschool collection!
I recently came across an excellent program to teach your very young child to read. It's called Children Learning Reading. He has wonderful tips and ideas for not only teaching young children but also turning your child into a lover of reading! I highly recommend it.

The New We Look and See, William S. Gray

This is the book that we learned to read with as kids. It slowly introduces words so that kids learn gradually. The fun stories and colorful pictures make this book a winner with young children.

The New We Come and Go, William S. Gray

Because this book and the one above were printed in the fifties and are no longer being made they are collectable. They are rather expensive to buy now, even used, so it may be better just to find them from your local library.


All Dr. Seuss books

Known for his rhyming stories with made up creatures that capture your imagination, Dr. Seuss's books are great for kids of any age. Full page pictures and creative tounge twisters add fun to every book.


All Richard Scarry's books

These books have a delightful cast of many characters, including our family favorite, Mr. Fixit Fox. Different books help with anything from expand your child's vocabulary and learning numbers, to just great bedtime stories.


All Poem books by Jack Prelutsky

I put these poems in the preschool book list because young children can understand them. But this by no stretch of the imagination means that your older children won't like to read them. Even in my teens, I still get a kick out of them!

Amelia Bedelia Series, Peggy Parish

Amelia Bedelia is the delightful maid who manages to get herself into heaps of trouble by doing things exactly as she is told. You can imagine the confusion this causes when she has to "draw the drapes" or "dress the chicken"!

Bedtime For Frances, Russell Hoban

The amusing story of a little bear's attempts to keep from having to go to bed, and her encounter with scarry night sights and sounds. I think we enjoyed this because it is something that we can all relate to at that age!


The Berenstain Bears, Stan and Jan Berenstain

This series of books is about an average bear family, and includes a lesson in every book. They cover everything, including manners, sharing, getting along with friends, and telling the truth.

Clifford books, Norman Birdwell

This series is about a little girl and her dog Clifford. The fun of the stories is that Clifford goes from being a small puppy to a dog as big as her house! If your children like dogs, make sure they read these!


Corduroy, Don Freeman

Corduroy is a bear at a department store who longs to have a home. Then a little girl takes a liking to him, but doesn't have money to buy him. Will anyone ever buy him?

Curious George, H. A. Rey

Curious George is a monkey who has an uncanny ability to get himself and his owner into a lot of trouble. This series never ceases to amuse children and is a must for your preschool book list.


The Fire Cat, Esther Averill

Pickles is a cat that spends his days chasing cats out of his owner's yard. But what will happen when this ambitious cat meets the town fireman? With plenty of pictures, this is a great book for kids.


George and Martha Series, James Marshall

Two friends, George and Martha, are always getting on eachothers nerves. The pranks that they pulled on one another were always original and fun. In the end they always made up for their tricks.

The Grouchy Ladybug, Eric Carle

The grouchy ladybug tries all day to pick a fight with anyone, but each time decides his opponent is not big enough for him. Eventually he ends up meeting his match.

The Story About Ping, Marjorie Flack

Ping sleeps at night with duck relatives on a boat on the Yangtze river. One night Ping doesn't go back to the boat. The next day he is captured by a boy for dinner. What will happen to him?


There Are Rocks in My Socks! Said the Ox to the Fox, Patricia Thomas

This is the hilarious story about an ox who gets help from a fox. The fox, rather than helping him get the rocks out, gets him into a much more uncomfortable situation. The creative rhymes and fun pictures made this one of our all-time favorites.


The Very Hungry Caterpillar, Eric Carle

This is the short story of a caterpillar transforming into a butterfly. It's simplicity makes it great for young kids learnig to read. This was one of our favorite Eric Carle books.

I hope this preschool book list gets your children off to a great start reading...all by themselves!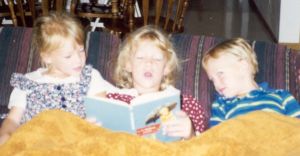 Emily reading The New We Look and See to Annette and Garrett.



Check out the Elementary Book Lists for Grades 1 and 2.


Return from Preschool Book List to
All Home School Book Lists

Return from Preschool Book List to
Homeschool Rewards Home Page