High School Book List
Homeschool Book Reviews For Teens
Grades 9-12
Did you know by using the right
high school book list
now, your child can be ready for college? You will find books here that will challenge their beliefs and make them think.
Typically, an educated person is one who knows how to read and
who keeps on reading throughout his life.
The homeschool high school book list below is just one of many lists on our site. Each of the children have made their own list of favorites. I know they'll lead you to a favorite, too!


Laura's High School Book List
Prepares You For College
The Adventures & The Memoirs of Sherlock Holmes (Arthur Conan Doyle)
My family owns "The Complete Sherlock Holmes", and my sisters and I have read both volumes! I can't pick a favorite story, so I'll let you choose what you like. Sherlock Holmes and Dr. Watson get into (and out of!)innumerable scrapes, and Holmes' acute attention to detail rarely misses a single point.
Brave New World (Aldous Huxley)

Canterbury Quintet (Geoffrey Chaucer)
A Connecticut Yankee in King Arthur's Court (Mark Twain)
Another book that will have you laughing at every chapter! A man from the 19th century wakes up to find himself in King Arthur's England, complete with knights, monks, peasants, and castles. With his knowledge of "modern" technology, he is able to amaze the king's court, and go from an oddity to a respected knight. Engaging and amusing.
The Diary of Anne Frank (Anne Frank!)

Emma (Jane Austen)
The story of a young lady who attempts to make matches for her friends, and invariably botches the job! Although she believes herself to be perceptive and insightful, she realizes by the end of the book that she is often neither, and that people are best left to themselves. In true Austen fashion, she makes her own match along the way. Charming and endearing.
Freakonomics (Steven Levitt and Stephen Dubner)
Not just for students who like economics! The authors answer why teachers cheat, why drug dealers are poor, what your first name means for your future job search, and more. Economics can be a largely theoretical field, but this book brings the theories to the real world. The book is written for anyone to understand, even those who have no economics background. My university is considering it for the freshman First Year Seminar class.

Hamlet (William Shakespeare)
No high school book list would be complete without the works of Shakespeare!
The Hiding Place (Corrie ten Boom)

The Importance of Being Ernest (Oscar Wilde)

Jane Eyre (Charlotte Bronte)

Murder at the Vicarage (Agatha Christie)
No mention of mystery novels would be complete without this author. Her style is very different from Doyle and Holmes, but just as charming in its way. Miss Marple is the detective heroine of this novel, but if you would like to read about the famous Hercule Poirot, you can always try Murder on the Orient Express. Christie has many novels to choose from if you want to read more!
Murder on the Orient Express (Agatha Christie)

The Old Man and the Sea (Ernest Hemingway)

Pride and Prejudice (Jane Austen)
The author's most popular book tells of five young women in the early 19th century. Through a series of twists and turns, triumphs and tragedies, these ladies find their future happiness, and learn the value of an honest and upright character. The author's light satire and love of irony make the book hard to put down. Engaging and delightful.
Pygmalion (Bernard Shaw)

The Red Badge of Courage (Stephen Crane)

Romeo And Juliet (William Shakespeare)

The Screwtape Letters (C.S. Lewis)
Next to the Chronicles of Narnia series, this is the C.S. Lewis book I like best. Uncle Screwtape is on of Satan's devils, and the book is a series of his letters to his young devil nephew. Screwtape gives advice on how to persuade humans to do as the devils wish, and shares insights into human character and general flaws. This book will make you think.
A Severe Mercy (Sheldon Vanaucken)
This autobiography tells of two young lovers who marry and move to England to study at Oxford. While there, they meet C.S. Lewis, who introduces them to Christianity. One follows Christ, while the other stays back. Until one dies, the other cannot understand the fullness of God's love. Heartfelt, and at times, brings tears.

Sir Gawain and the Green Knight (James Winny)

A Tale of Two Cities (Charles Dickens)
Dickens has long been popular for a very good reason! This book starts slowly, but is worth every minute. Set during the French Revolution, a family escapes near-destruction with the aid of an unexpected friend. My sister guessed the ending, but I didn't!
Three Men in a Boat (Jerome K. Jerome)
This charming book is a first-person, fictional account of three ment (and a dog) on a two-week sailing trip on the Thames. Set in the late 19th century, the author tells of rowboats, steam launches, small locks, and the mishaps the men encounter. Frying an egg or setting up a tent are major obstacles they cannot seem to overcome! Light and comical.
The Robe (Lloyd C. Douglas and Andrew M. Greeley)
This book tells of a young Roman tribune present at the crucifixion of Christ. For months he suffers from the trauma, until the robe of Jesus brings him healing. He begins to seek other Christians in the Roman province that later becomes Israel, but is mocked and threatened by other Romans for his belief. His fate upon returning to Rome is worse. You will wonder at the devotion and loyalty of the early church. Also try the sequel The Big Fisherman.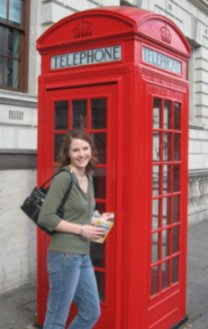 Here I am in London!
You can experience all kinds of places without actually being there.
Just read a good book!


Best Book Reviews For Teens And Young Adults gives helpful information as you research to find a book for a report or for your own personal enjoyment. Be sure to visit it for more high school book lists.

More Book Reviews For Teens


Return from High School Book List to
All Home School Book Lists

Return from High School Book List to
Homeschool Rewards Home Page