Great Book List
Young Adult Book Reviews
This unique great book list provides thought-provoking literature with young adult book reviews. Each book influenced Emily to see and view life from a totally different perspective.
Typically, an educated person is one who knows how to read and
who keeps on reading throughout his life.
Emily's homeschool great book list below is just one of many on our site. Each of the children have made their own list of favorites. I know these lists will lead you to a favorite, too!

Emily's Thought-Provoking Great Book List

The Bible - Affects my life on earth and my life to come. No great book list would be complete without it!
A Tale of Two Cities (Charles Dickens) - A great example of sacrificing your life for another's.
The Sound and the Fury (William Faulkner) - Gave me a greater understanding of those that fell on hard times after the Civil War. How events that happened after the Civil War also tore families apart.
Lord of the Flies (William Golding) - A chilling, haunting story of boys stranded on a desert island. How the boys intending to do good become hated and hunted by the other boys. Tells with stark reality how the young and innocent can be pressured into doing remarkable evil.
The Scarlet Letter (Nathaniel Hawthorne) - Realistic story of how people are unwilling to forgive the past. About life as an outcast, living under humiliation, and rejection by your neighbors.
Brave New World (Aldous Huxley) - Attempts to foretell the future. Easily feasible, which makes this story a scary narrative of possible life in the future. How we destroy ourselves from the inside out. Growing children in test tubes and manipulating their minds so they act and think like they're programmed to.
Fahrenheit 451 (Ray Bradbury) - Story of a firefighter whose frightening job is not to put out fires, but to start them. Namely, to use the fires to burn all the books. A place where knowledge and information is bad. He undergoes a change of faith and joins a group of scholars who store knowledge in their heads, waiting for a time when society will once again need the wisdom of literature.
Where the Red Fern Grows (Tara McCarthy) - Stories like this have a significant impact on young minds. It probably increased my love for dogs and my appreciation for them as pets.
Cry, the Beloved Country (Alan Paton) - Sad story of how blacks were persecuted and condemned for crimes they had never committed. How families were torn apart and parents searched for long lost children.
Things Fall Apart (Chinua Achebe) - Sad story of Nigeria before and after the coming of colonization. A compelling story of redemption, exile, and how cultures are lost forever.
One Day in the Life of Ivan Denisovich (Aleksandr Isaevich Solzenitsyn) - Life in a labor camp in Siberia, under the Stalin era of the Soviet Union. Tough story of overcoming hardship.
Uncle Tom's Cabin (Harriet Beecher Stowe) - A powerful work of art written about slavery. Characters argue about slavery, lament their fortunes and survive by their wits. Each character has emotion and depth, and the moral force behind the story is incredible.
The Count of Monte Cristo (Alexandre Dumas) - A compelling story that forced me to look deeper than what I was reading. It is impossible to come away without a deeper appreciation for the author and his ability to write stories which draw you into the plots.
Seabiscuit (Laura Hillenbrand) - A powerful story of grit, grace, luck, and an underdog's stubborn determination to succeed. A story where looks aren't everything, where your highest qualities are mostly in your heart.
The Black Stallion (Walter Farley) - Having read when I was 10 or so, the story was riveting and probably cemented my love for horses. Definitely was a life-changing book.
The Robe (Lloyd C. Douglas) - Not willing to renounce what they believe, Christians are executed for defying the emperor. A tragic story of those who gave their lives for what they believed.
Around the World in Eighty Days (Jules Verne) - This book got me hooked on Jules Verne. It was the starting point for me reading the classics. Had I not read this book, it is very possible that I may not have read many of the other books on this list.
The Flames of Rome (Paul L. Maier) - Living under a corrupt government, a Roman soldier is continually promoted under a wicked emperor and constantly questions the emperor's judgment. He must pick his way cautiously among the intrigues that infect the city. Woven in are Christianity, the great fire, and the persecution for entertainment.
The Three Musketeers and sequels (Alexandre Dumas) - Tremendous story of loyalty, betrayal, friendship, and honor. Spanning almost a generation, it passes through different kings, different plots, and different heroes. Great example of dedication to one's king and beliefs.
All books by Jeff Shaara - Takes you inside the lives of those in the Revolutionary War, Mexican War, Civil War, WWI, WWII, etc. Gripping documentary that tells the story from the point of view of everyone from generals to privates. Gives you a peek into what they really suffered and their thoughts on the matter. Also includes maps that show positions and how they changed during battles.
Fallen Angels (Walter Dean Myers) - A coming of age tale set in the trenches of the Vietnam War, it's the story of a Harlem teenager who volunteers for the service when his dream of attending college falls through. Sent to the front lines, he and his platoon come face-to-face with the real horror of warfare. But violence and death aren't the only hardships. As he struggles to find virtue in himself and his comrades, he questions why black troops are given the most dangerous assignments, and why the U.S. is there at all. As thought provoking as it is entertaining, touching and, on occasion, humorous.
The Rime of the Ancient Mariner (Samuel Taylor Coleridge) - This epic poem fascinated me and gave me a deeper appreciation for poetry. A haunting tale, it rivets your attention throughout the whole poem. Changed my opinion of epic poems.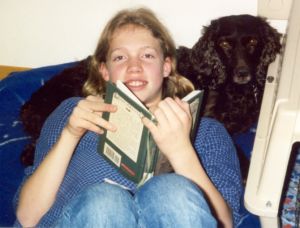 Here I am with our dog, Liberty.
The home is still the greatest educational environment.


Parents who make reading attractive using good literature
contribute immeasurably to their child's development.

Looking for another critical book review? Try our classic book list.


Return from Emily's Great Book List to
All Home School Book Lists

Return from Great Book List to
Homeschool Rewards Home Page