Family Feud Board Game
A Favorite Of Board Games For Children
The Family Feud Board Game is very inexpensive and loaded with thought provoking survey questions to experience the TV fun right in your own home.
For years I had wanted to get this game. I happened to spot it one day shopping and couldn't resist. It was under $10. So, I figured it would be a cheap night to give it a try.
Ours is the 3rd Edition and comes with an instruction booklet and surveys enough to play 90 complete games. Each game has surveys for all 3 Rounds and the Fast Money Round. It can be played just like the TV show.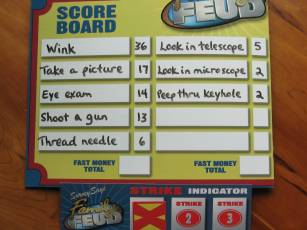 Name something you do with one eye closed.
As you can see, it also comes with a board for writing each team's answers. It's a nice wipe-off board. Be sure to use a dry erase marker. The marks come off very easily with a little rubbing alcohol and a tissue.
How many would you have been able to come up with? It's not easy when you're on the spot, believe me!
The box suggests you be 8 years old to play. Some of the questions are easy enough that your younger child could easily play. Okay, let's try a simple one just for fun…
100 people surveyed. Top 4 answers on the board.
Name a part of the mouth.
Can you think of the 4 answers? You must put yourself in the shoes of those surveyed. That is the tricky part. So, what's your answer? I'm not telling. You'll just have to buy the game! Enjoy! It's one of our favorite kids board games.

Return from Family Feud Board Game to
Complete List of Games

Return from Family Feud Board Game to
Homeschool Rewards Home Page