Simple Hamburger Recipes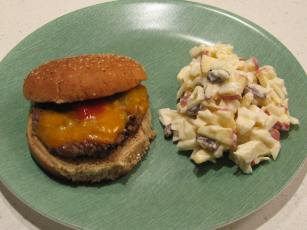 Give these simple hamburger recipes a try at you next game day party!
Serve these with a great side of cabbage salad.
Hamburgers
1 and 1/2 pounds of ground beef
1/4 cup of ketchup
2 tablespoons of Worchestershire sauce
1/4 teaspoon of salt
1/4 teaspoon of black pepper

Makes 8 burgers.
On a large baking sheet or bowl mix together all of your ingredients. Divide the mixture of meat into eight equal piles. Roll each one into a ball and then squish them into large circles. Make them as big around as you can without breaking them because they shrink a lot while frying.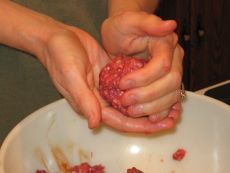 Place your burgers on an ungreased griddle or pan (these also work fine on a grill!). The meat is fatty enough that it will grease itself as it cooks :) Below you can see what I mean about them shrinkng as they cook, and about juicing out. When they are cooked enough on the first side that they won't fall apart, you can flip them.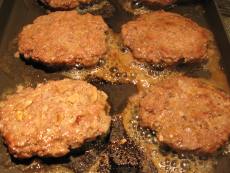 About five minutes after flipping them press down on them with your spatula. Depending on how well done you like your hamburger, when the juices come out slightly red it may be enough. We, however, are more of the "fully cooked" people, so when the juice runs clear and the burgers are slightly brown on both sides they are done.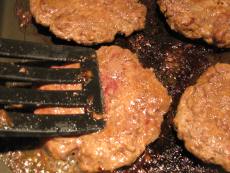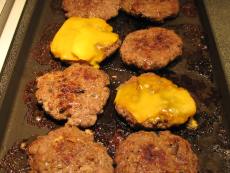 Variations to the simple hamburger recipe.
1/2 cup of chopped mushrooms
1/4 cup of chopped onions
Sliced cheese
For those of you who like mushrooms and onions, you can add those when you are mixing together the ingredients. If only half of you like them, like it is at our home, put them in after you have mixed together the other ingredients and pulled out half of the meat.
For anyone who likes cheeseburgers, put a few slices of cheese on just after you have flipped the burgers. That way it will be melted by the time the hamburgers are done.
Now you and all of your friends will have a meal and a show on your big game day!

Return from Simple Hamburger Recipes to Fun Easy Recipes for Kids