Easy Salad Recipe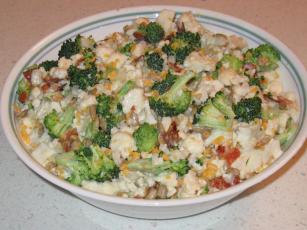 This easy salad recipe is sure to please.

Broccoli-Cauliflower Salad
1 large bunch broccoli, cut into small pieces
1 head cauliflower, broken into small pieces
1 small red onion, chopped
8 slices bacon, fried crisp and broken into pieces
2/3 cup shredded cheddar cheese
1/3 cup roasted, salted sunflower seeds
1½ cups mayonnaise
½ cup sugar
1½ T. vinegar

Combine vegetables, bacon, cheese, and sunflower seeds in a large bowl. Mix mayonnaise, sugar, and vinegar in a separate bowl, pour over salad mixture. Toss until coated. Refrigerate 4-5 hours to flavor through before serving.
Serves 6 with plenty of left-overs!
You could easily take this as a Dish-to-Pass. It is one of my favorite dishes at reunions. I usually pass up the sandwiches and just eat the salads! They are so much better for you, anyway!