Easy Peanut Butter Cookie Recipe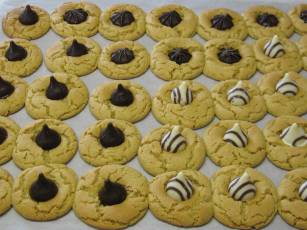 Give chocolate kisses with the easy peanut butter cookie recipe!
Peanut Blossoms
1 3/4 c. flour
1 t. baking soda
1/2 t. salt
1/2 c. sugar
1/2 c. brown sugar
1/2 c. shortening
1/2 c. peanut butter
1 egg
2 T. milk
1 t. vanilla
48 milk chocolate candy kisses

Mix dry ingredients in a large mixing bowl. Add everything else except the candy kisses. Mix on low speed until dough forms. In your hand, shape a small amount of dough into balls using a rounded teaspoon full for each. (You can roll in sugar if you'd like.)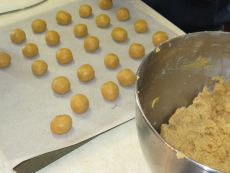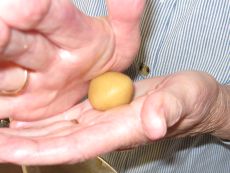 You can see how big we rolled them, notice the quarter at the bottom of the picture. They should go on an ungreased cookie sheet or parchment paper. Bake at 375 degrees for 10-12 minutes or until browned.
Immediately top each cookie with a candy kiss. Press down firmly so cookie cracks around the edge. Then remove from the cookie sheet to cool. The candy will soften, but harden again as it cools.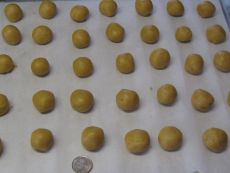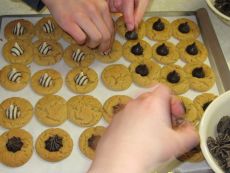 We doubled the recipe and got close to 100 small cookies. My grandma always made these around the holidays. They're great with a glass of milk!

Return from Easy Peanut Butter Cookie Recipe to Fun Easy Recipes For Kids