Easy Chicken Parmesan Recipes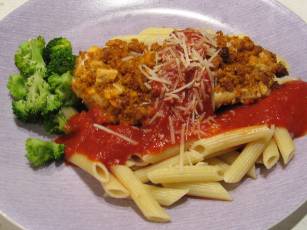 These easy chicken parmesan recipes are enjoyed by everyone!
Chicken Penne Rigate
1 package of 3 piece chicken breasts
16 oz. box of penne rigate noodles
26 oz. jar of spaghetti sauce (or less if you can find a smaller jar!)
6 oz. bag of shredded parmesan cheese

2 cups dry bread crumbs
3 tablesoons of vegetable oil
1/2 tablespoon paprika
1/2 tablespoon celery salt
1/2 teaspoon pepper
1/4 teaspoon garlic salt
1/4 teaspoon minced onion
1 pinch basil
1 pinch parsley
1 pinch oregano

Serves 6
Trim the chicken of all of the fat and then cut each piece in half widthwise to make 6 thin pieces. Crumble or cut your bread crumbs and mix in a bowl with the oil, herbs, and spices.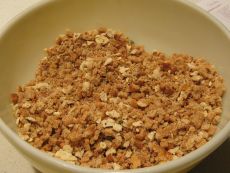 After mixing well, press the bread crumbs evenly onto the chicken. Place the covered chicken on a rack on top of a baking sheet. Don't panic if you don't have as many chicken pieces as we do. We made a double batch!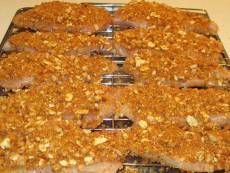 Bake in the oven at 400 degrees for twenty minutes, or until fully cooked. Try not to over bake it or it will be tough.
While the chicken is in the oven, boil your noodles as directed on the package. A sixteen ounce box says it serves eight, but we like noodles, so we use the whole box. You can use however many you think you will eat.
In a small pot heat up the spaghetti sauce. We only heat up part of the sauce and freeze the rest because we can't get the jar in a smaller amount. When everything is warmed or cooked, put your chicken on top of your noodles on a plate, pour some spaghetti sauce over it, and garnish with parmesan cheese. This also goes really well with a side of steamed broccoli, for all of the vegetable lovers!
Here is another easy chicken parmesan recipe for you to try.
Breaded Parmesan Chicken
1 package of 3 piece chicken breasts
1 and 1/2 slices of dry bread
1/4 cup of parmesan cheese
1/4 cup of ground or finely chopped almonds
pepper to taste
olive oil

Serves 6
Cut all of the fat off of the chicken breasts. Then cut them in half widthwise to make 6 thin pieces.
Crumble or cut the bread into crumbs and mix with the parmesan, almonds, and pepper. Coat the chicken evenly in the oil to help your breading stick. Press your breading on both sides of the chicken and place on a rack on a baking sheet. Bake at 400 for 20 minutes, or until fully cooked.
We are sure that you will love both of these easy chicken parmesan recipes.
Return From Easy Chicken Parmesan Recipes to Fun Easy Recipes For Kids